My Blog
Aug 14, 2014
Leopard backpack - my high school backpack!
---
Category: Blog
Posted by: kimba
Yesterday I've browsed the italian eBay Classifieds and suddenly bumped into this: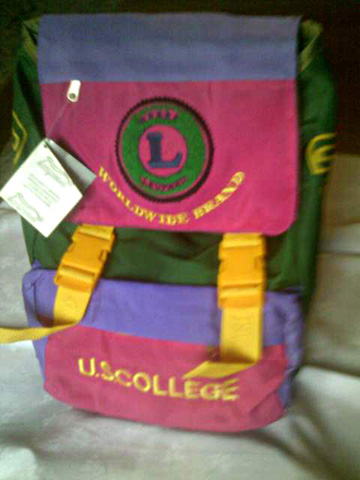 I was very amazed and excited when I saw this photo... This is the same model of the backpack that I've used during my high school days (but I had to give it away while moving to the university)!!! I liked carrying it very much!
Actually, there is a small difference from the model I had - my backpack had additional 2 purple side pockets rounded in yellow and across them was written LEOPARD with yellow letters, while this backpack doesn't have side pockets and the lettering LEOPARD is written with big yellow letters across the backpack's side.
It was made in the mid-1990s by an italian company called Leopard. I got it in cca. 1994 and I remember well from the price tag that it costed 128.000 croatian dinars. The backpack from this eBay classified costs 45,00 euro, maybe that can be considered as an approximate conversion of the old price. :)
I've found on another italian website two other Leopard backpacks from that time:
Anyway, this is such a nice flashback and travel back in time! :)