Who am I?
I am a 45-year-old anthropomorphic lion born and living in Split, Croatia. My paternal ancestors are from the small Hvar island, while my maternal ancestors are from Slovenia.
As for my ancestors, on Geni.com I've found an info page on the web about my great-great-grandfather from my father's side, as well as the info page of my other great-great-grandfather from my father's side. Also, by comparing my family's family tree with genealogy data found on Geni.com I've discovered that one of my distant ancestors was the cousin of famous Croatian poet Petar Hektorović. Recently on Geneanet.org I've found an info page about my great-grandfather from my mother's side.
Lions and big cats
I'm a great admirer and a life-long fan of Kimba the White Lion, and just like that little white lion, I have a lovely wife, a son (Luke/Lune) who looks just like his father, and a daughter (Lucy/Lukio) who looks like her mother (there's how life imitates art). I spend all my free time on them and with them (it has been ages since I last went to a sport match or to a theater), and although it is sometimes exhausting, it is the best thing to do for them.
I'm also a big lion and cheetah lover, and I'm also lover of animals in general, and just like Kimba W. Lion I know that they also have "hearts" and "minds", because intelligent life is all around us. I got hooked to cheetahs after I was able to touch a real cheetah in 2006 in a private game reserve in South Africa, and soon I donated to the Cheetah Conservation Fund. As for lions, well... as you can guess, it all started with Kimba, and now I like anything lionish and lion-related, especially Peugeot, and Lonsdale (but I'm not affiliated with punks or skinheads in any way).
Pets
Since March 2023 we have a 9-year old Westie (West Highland White Terrier) dog called Maza ("Cuddly") which we "inherited" after her previous owner (my mother-in-law) had to permanently go to a care home for older people because of her rapidly advancing dementia. Luckily, Maza already befriended us since she was a young pup, and so for her the process of getting used to new owner(s) was much easier. She is very cuddly, friendly and sweet to us, but she can be very alert to outside noises, just like the other terriers do. And she is very afriad of sudden noises like fireworks, lightnings, explosives, and recently our hiccups and burps. Her fur is snowy white, and she often likes to hang around me when I'm sitting somewhere, which reminiscenses me about Kimba the White Lion being near me.
Work
Currently I'm working in our University Hospital here in Split, in the Department of the EU-funded projects. Previously I worked in a small travel agency called Globtour as a booking agent and the ICT support (from October 1998 to October 2018). Although I'm a computer whiz (see here for more details), I've graduated as MBA from Faculty of Economics in Split in 2007.
Languages
I speak Croatian, English, German and Italian, but I can also get along Slovene and French as well. Since 2020 I am learning Spanish with Duolingo, and in the future I'd like to learn French and Japanese.
1970s
As a kid of the 70's, I'm still very fascinated with technology things from the 70's (robots, synthesizers, computers, video games and arcades, toys, music and sci-fi movies of that time). I can't explain why, but the 1970-something years were always so magical to me.
Computer and video games
I loved playing computer games since I was little, but I was lucky to quit that in 2009 thanks to my darling (last game I played was GTA 3). I also loved to play Nintendo Game Boy and Sega Mega Drive. I've recently sold the Sega Mega Drive, but I still have the Nintendo Game Boy and lots of its games. As a trivia, the first arcade game I ever played was a Galaga (cocktail v.) in a hotel in Obertilliach (Austria) in 1982, and the first pinball I played was Bally's Eight Ball Deluxe in a bar in Milna (Croatia) in 1982 or 1983.
...Well, at least so it was until 2021, because in that year my daughter asked me to play Roblox (and later Minecraft) with her, and so (as an old school gamer) I started playing video games again. In 2022 my son instructed me how to play Fortnite, and now I can play Fortnite with him when his friends can't. We three have had fun times playing together Minecraft, Roblox and also a bit of Fortnite. With my son I even reached on Fortnite Victory Royale a couple of times (starting with Chapter 4 Season 1), and I managed to get my first Solo Victory Royale on the last day of that season! And so I'm now an "experienced" player of Minecraft, Roblox and Fortnite. My son has now his own YouTube channel, and I play Fortnite from time to time (you can see my Fortnite stats, as well as the badge with my stats for the current Fortnite season).
Music
I like all sorts of music (especially if it is good music, and especially all sorts of jazz), but I avoid in Croatia lately popular eastern-ethno-influenced pop songs with shallow lyrics, and all sorts of metal music (although I do like the instrumental version of Fear Factory's "Zero Signal"). My favourite Croatian singers are Oliver, Gibonni and Arsen Dedic, and from the international singers I like Eros Ramazzotti, Elton John and Tom Waits. In the 1990s I got the Casio MA-101 keyboard which I still own.
Movies
I also like movies, and before I founded my little pride I used to go to theaters more often (in the 1990s I watched 41 movies in only 1 year, and in that decade I used to watch 10-30 movies in one year). The first movie that I ever saw in theaters was Spelberg's E.T. Aside from my local movie theatres, I've been to U.S. theatres as well (twice), and I watched there Who Framed Roger Rabbit and The World is Not Enough.
Books
A couple of years ago I started reading books again. I was never a bookworm before, I've hardly read a book or two a year. But thanks to my love and thanks to her love for books I got inspired to do the same. So far I've read 60+ books, mostly science-fiction and fantasy works, but I've also read a couple of detective fiction by our acclaimed writer Pavao Pavličić and a couple of romance novels. I've read them all in paperback/hardcover and sometimes also as an e-book.
Here is the complete list of book series that I've read so far: The Chronicles of Narnia, Warriors: The Prophecies Begin, Warriors: The New Prophecy, The Famous Five, The Secret Seven, The Chronicles of Amber, Harry Potter, The Hobbit & The Lord of The Rings, Percy Jackson & the Olympians.
Sports
I train archery, and in the past I used to go to the basketball matches of my local basketball club Split, and to the baseball matches of our local and oldest croatian baseball club Nada SSM.
Travels and birdwatching
Since my visit to the beautiful Namibia with my parents in January 2007, invited by our tourist guide in Namibia, Mrs. Lily Taylor, I've started birdwatching. We started with birds in Namibia (in 2007/2008 I've upladed many photos with namibian birds on now defunct croatian birdwatching portal www.ptice.net - here is the archived version of that gallery), and I continued watching birds after my return to Croatia. Currently I don't have enough time to do it everyday, but I'm sure I'll continue that mighty soon!
Regarding travels, I've traveled much around the world, mostly with my parents, and I've been to 281 places in 19 countries on 3 continents (according to my TripAdvisor profile). Aside my own country, I've been to Italy many times (I've visited there 52 places according to TripAdvisor), and I've travelled both countries from north to the south and from east to the west on mutiple occasions. According to TripAdvisor I've travelled 65376 total miles (105212 kilometers), and I've visited 16% of the world (!).
Rotaract
I'm the founding member of the Rotaract Club Split (the initial meeting took place on April 20, 1998), and until 2011 I've been an active member of the club (which, in turn, was disbanded - and almost closed down - for 2 times, but it "survived"), and from 2011 with a new leadership and members (the "new generation" of rotaracters) the club made even better progress and success than before, while I stepped down in the same year because of my newly formed family. I've taken all club positions during that time, including being the club's president (for the year 2008/2009). I'm currently only an uncredited honorary member of the club.
Cars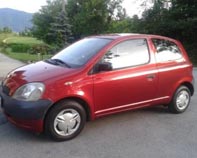 I've made list of my cars, and you could see it here while the CheckMyRide.com site was still available. I also like driving my love's 2002 Toyota Yaris. And, my dream cars are an S-Type Jaguar, and a '60s VW Beetle.